[ad#m1] When he is completely fit, there is no doubt that Abou Diaby is one of the best Arsenal player to have around who performs at his best when truly required.
But for some time now, the word "fit" is just does not fit him at all. Since 2006, he has been frequently on the sidelines due to various kinds of injuries.
Here is look at the injury list of one of the most unfortunate and promising footballer.
Starting with his ankle injury in a match against Sunderland in 2006, it costed him a year out of the game and took 3 surgeries to get it right eventually.
He had then missed most of the matches in the 2007-08 season but came back towards the end of the season. But as luck would have it, he sustained a thigh injury which costed him another season. In 2007 itself, he suffered from a back and an ankle injury as well.
Diaby got extremely sad knowing that he was removed from the French squad for the World Cup as he suffered from a hip injury in the 2009 season. In the same year, he also suffered from injuries in the ankle, foot and the groin region.
Also picked up a left calf injury in November.
In the UEFA champions league match against F.C.Porto in 2010, he suffered a serious knee ligament damage which costed him three weeks. The year 2010 proved to be disastrous as he suffered with the most number of injuries in that year counting to a total of eight injuries.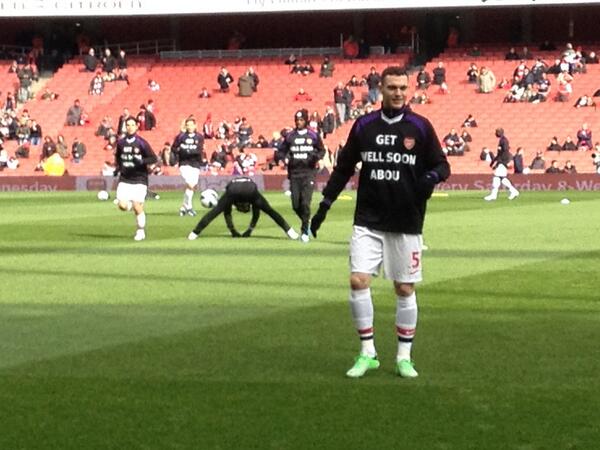 After appearing for 11 games in the 2011 season, Diaby again underwent surgery on his troublesome ankle and this operation removed the previously installed metal protection for future safety.
In November, Wenger seemed to be extremely worried about his key midfielder when he expressed his concerns about Diaby's muscular injury which made kept him out of the game for a long time.
His injuries had reached such a height that Abou Diaby had to go to Qatar and America for further effective treatment.
In 2012, He injured himself against Liverpool in March and on September 29 he suffered a Thigh Muscle strain against Chelsea.
Most recently, in February, this year, he again suffered from a calf injury and then a serious knee injury while training with him mates, it is believed that it will take at least nine months rest before coming back to the field.
Despite this horrific tale of injuries, everyone at the club including all the players and Arsene Wenger, has told Diaby to not give up on his career.
[ad#ad-3]