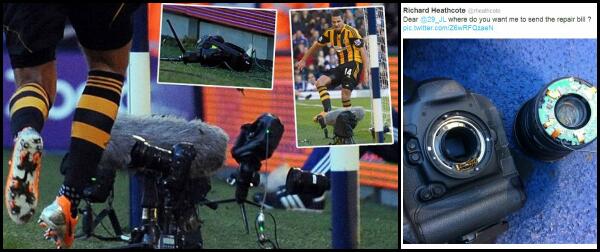 Jake Livermore scored for Hull City on Saturday against West Brom in a 1-1 draw. While celebrating, he ran behind the goal and knocked one of the cameras and completely dismantled it in excitement. Though, soon, he found out that this was not the end of the chapter.
Richard Heathcote, a photographer and owner of the camera, took to Twitter to show his frustration. Adressing Livermore's account, he tweeted (see above picture) as to where to send the bill for the camera worth  £6,000.
The on-loan star from Spurs, Livermore saw the photographer's tweets and offered an apology. (see image below)
He also tweeted promising to pay the photographer the entire amount and also donate the same amount to teammate, Tom Huddlestone's campaign for Cancer. It was reported that the club, Hull City approached the star to make amends.