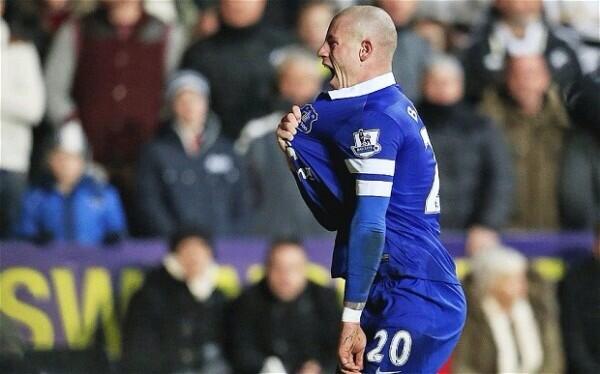 Silly season all over again. Everton sensation Ross Barkley is being rumored to gathered a 'massive' interest from Liverpool. Nobody needs the lesson in rivalry here. So it's beyond obvious that even if a bid like this is being made (which is doubtful at best), it will more than likely just get rebuffed by everyone at Everton.
The young 20 year old Everton star has brought home the bacon this season which has put him in line for the England World Cup Squad,probably the best accomplishment of his not so long career hitherto.
Ross Barkley was 11 when he moved to Everton's youth team and has had loan spells at Sheffield Wednesday and Leeds United. He has also represented England at under-16, under-17, under 19, under 20, under 21 and senior level. Barkley has had 30 games for  Everton this season, scoring 5 goals.
No wonder Brendan Rodgers is impressed. But this would not be easy for Rodgers to land such a sparkling talent of English Football with other teams like Chelsea, Manchester United and Tottenham also looking forward to bolster their midfield and land a charismatic midfield ace such as Ross Barkley. 
Everton asseverate that they would rebuff any bid for their star midfielder and are ready to give him a long term clause this summer but until that happens other sides will push hard to get one of Roberto Martinez' top prize assets.
Though, a midfield of Henderson, Sterling and Barkley would definitely be interesting for England if all of them eventually do get called up.
You can also hear the same story in Sky Sports Hometime Headlines below.
[youtube id="qE7Im7OucxA" align="center" mode="normal"]