[mt_one_fourth]
[ad#ad-2]
[/mt_one_fourth]
AC Milan's tactics worked big time as Boateng and Muntari scored two fine goals. First victory against Barcelona since 2004, Job half done. Watch this space for the highlights of the match. HIGHLIGHTS
90′ + 5 – Match over, Milan wins 2-0. Abbiati makes an important save. Home fans buzzing alright.
90′ + 4 – Barca free kick goes to waste. that away goal could be precious.
90′ + 1 – Traore receives a yellow cars as he fouls Mascherano as Montolivo clears the ball. And Balotelli is seen jumping around with a lot of his friends. Crazy scenes at San Siro.
5 minutes of added time.
89′ – Milan trying to see this job through. Keeping possession, Barca getting annoyed.
Javier Mascherano replaces a battered Puyol.
El- Shaarawy replaced by Traore.
86′ – Puyol heads wide. San Siro very noisy at the moment.
81′ – Sulley Muntari scores. Great play from Niang. Brilliant finish.
79′ – Abate fouls Sanchez. Barcelona have a free kick not so far away from the goal. Xavi or Messi to take it. Xavi it is. But it flies over.
76′ – Iniesta with a shot. Abbiati had it covered though. Barcelona growing impatient.
75′ – Alba fouls Boateng. Pazzini now subbed off for NIANG!
69′ – Pazzini tries an overhead kick, it went straight to Valdes.
66′ – Serious collison between Pazzini and Puyol. Game stopped.
64′ – San Siro buzzing! Barcelona still taking time, building things from the back.
Alexis Sanchz on for Cesc Fabregas.
60′ – The game has really livened up now. Barca has to go at it and that is pushing Milan as well. Boateng goes close again.
58′ – Yellow card for Pique.
57′ – Kevin-Prince Boateng scores! Free kick for Milan resulted in rebound for Boateng who hits it on target.
53′ – Busquets gets a yellow card for a challenge on Pazzini. It made Pazzini very angry.
50′ – Milan very disciplined to cancel out Barca's slick passing in the second half.
46′ – Montolivo breaks Barcelona's movement passes it to Boateng who shoots a useless pass. Goal kick.
Second Half coming up. Match fact: Massimo Ambrosini made 7 interceptions v Barca, no player made more interceptions than him
Schalke has equalized against Galatasaray. Jermain Jones lashes one home.
Half Time: Milan 0 – 0 Barcelona, Good half, Barca enjoying possesion, Milan defending well. Final third missing from both attacks.
43′ – Pique come forward, collects a ball, passes, throw in Milan.
40′ – Muntari injures himself doing a bicycle kick to clear the ball from the edge of his own box
Busquets and Messi, brilliant one-two passes.
34′ – The match being played in Milan's half now. Barca trying harder each time but it looks like Milan have 10 players in the 18 yard line.
32′ – Milan gaining a little possession here. Iniesta controlling things in the centre for Barca.
27′ – Xavi looks for Pedro but pass is too heavy, Abbiati collects.
25′ – Mexes get a yellow card.
22′ – Montolivo superbly tackles Messi. Danger clear.
20′ – Abate clears as Barcelona counter in numbers. A dreary moment for the home side.
And Burak Yilmaz has given Galatasaray the lead against Schalke.
16′ – Great stuff from Milan but the second touch from El-Shaarawy is too heavy, Puyol clears, corner.
15′ – Barca are now starting to pass more comfortably, Dani Alves making good movement from the right hand side. Barcelona, as usual enjoying majority of the possession. A total of 79% compared to 21% of Milan.
10′ – Couple of corners for Barca. Milan defends well and breaks into counter attack but El-Shaarawy is found off side.
Milan have definitely won the kit battle. That Barca strip does not give the brightest of impressions.
5′ – Good start from Milan. An effort from Muntari but it goes wide.
0′ – All set. Kick Off at San Siro. Milan vs Barca.
Prediction Time – Milan 2-2 Barcelona, Galatasaray 3-1 Schalke
[mt_divider]
The other match tonight is Galatasaray vs Schalke at the Türk Telekom Arena. Didier Drogba and Wesley Sneijder both start for Galatasaray.
Line ups
Galatasaray: Muslera, Sarioglu, Kaya, Nounkeu, Riera, Altintop, Felipe Melo, Inan, Sneijder, Burak Yilmaz, Drogba. Subs: Iscan, Bulut, Balta, Eboue, Kurtulus, Colak, Amrabat.
Schalke 04: Hildebrand, Hoger, Howedes, Matip, Kolasinac, Draxler, Jones, Neustadter, Michel Bastos, Farfan, Huntelaar. Subs: Fahrmann, Obasi Ogbuke, Pukki, Metzelder, Fuchs, Barnetta, Meyer.
[mt_divider]
Live Pictures from San Siro: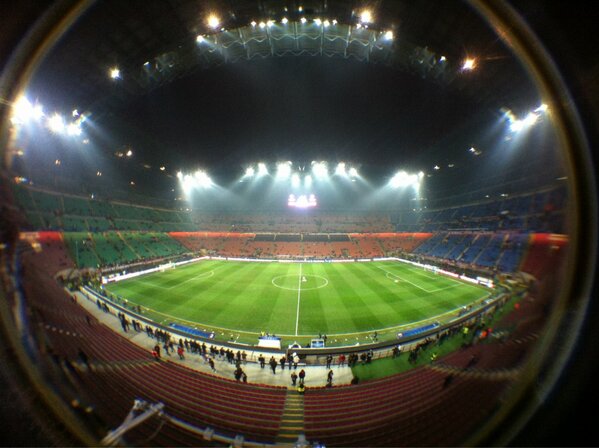 [mt_divider]
AC Milan's last win against Barcelona dates back to October 2004 at the San Siro in the group stages of the Champions League.
[mt_divider]
With 45 minutes to kick off, have a look at the video preview and promo for this match.
[mt_divider]
The Starting line ups are here!
AC Milan: Abbiati, Abate, Mexes, Zapata, Constant, Ambrosini, Montolivo, Muntari, Boateng, Pazzini, El Shaarawy. Subs: Amelia, De Sciglio, Traore, Niang, Bojan, Cristante, Yepes.
Barcelona: Valdes, Dani Alves, Pique, Puyol, Jordi Alba, Xavi, Busquets, Fabregas, Pedro, Messi, Iniesta. Subs: Pinto, Sanchez, Thiago, Mascherano, Montoya, Song, Tello.
[mt_divider]
20 Feb 2013. AC Milan vs Barcelona in the UEFA Champions League, Last 16, First Leg. Live from San Siro. Craig Thompson from Scotland will be the referee at the center.
[mt_divider]
Welcome to our very first attempt on giving you the best live experience of a match. If you somehow don't have the access to watch the match live on a television set or on a computer screen, do not worry. We have it covered. Check live text commentary with video updates.