The UEFA Europa League draws came out this Friday right after the Champions League fixtures were announced. Former Feyenoord player and a UEFA cup winner Pierre van Hooijdonk picked out the following draw: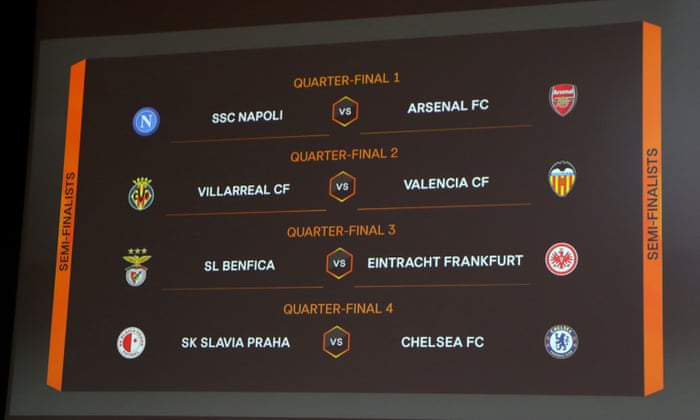 [Source: The Guardian]
Former Chelsea boss Carlo Ancelotti will return to London with his Napoli side to face Arsenal. Villarreal will face fellow league rivals Valencia. The other two fixtures involve teams facing each other for the first time ever. Benfica's loanee Luka Jovic will face his own team as Frankfurt face Benfica. Meanwhile, former Chelsea player Miroslav Stoch will now play in Stamford Bridge wearing Slavia Praha colours.
Sarri's Chelsea despite performing poorly in the Premier League has performed extremely well in the European competition having won 9, drawn 1 and lost none. They defeated their round of 32 and round of 16 opponents Malmo FF and Dynamo Kyiv effortlessly. The 5-0 victory in Kyiv showed the world how good they can play. Olivier Giroud scored a perfect hattrick and the Frenchman has now netted 9 goals in Europa itself. The tournament has also given Callum Hudson-Odoi a fair chance to show the world how good he is. Even without their star player Eden Hazard, Chelsea is a dangerous side to play against in Europa.
Slavia Praha meanwhile sits at the top of the table in the Czech first league. The last time Slavia visited London was in 2007 against Arsenal, where they faced their biggest Europa league defeat of 7-0.
But this season Slavia has displayed a strong performance and have beaten the most successful team in the competition, Sevilla, who have won the competition 5 times. Slavia came back from behind to win the game in extra time.
The last time they progressed to the quarter-finals of the Europa League back in the 2015-16 season, they faced Villareal and lost. This is the farthest any Czech club has made it in the competition.
They might be the best in their own domestic league, but they are yet to prove themselves in Europe. And what better way to show their grit than to give the former UEFA Champions League winners a tough fight.
Chelsea is a big European team, ranking 17th in UEFA team rankings. Their squad is filled with individual superstars like Eden Hazard, Willian and Higuain, and world cup winners Kante, Giroud and Pedro.
Playing against such a star-studded lineup is not a part of the daily routine for teams like Slavia. It is a golden opportunity for them, to display their skills against Europe's finest. So no wonder when the players found out they would be going head to head with the Blues, this is how they reacted:
The Blues though boast a brilliant track record, having won 3 and drawn 3, and are unbeaten against Czech opponents. They would certainly want to maintain this record against Prague as well. The odds are definitely in favour of Chelsea. But this has been a season of inconsistent performances for Sarri.
Chelsea were unbeaten in the League for the first 12 game weeks as well, but have performed poorly since then. Looking at their current form nothing can be said for sure.
It will be an exciting contest, seeing how Prague will prepare for this. They surely will give their 100%, but would their best be good enough to beat Chelsea?